A longtime ESPN writer's account of the suicide of his son Max, delving into how his exploration of their complicated relationship led him to see grief as love.
I Keep Trying to
Catch His Eye
is a stunning, poignant exploration of the father and son relationship, of how our tendency to overlook men's mental health can have devastating consequences, and how ultimately letting those who grieve do so openly and freely can lead to greater healing.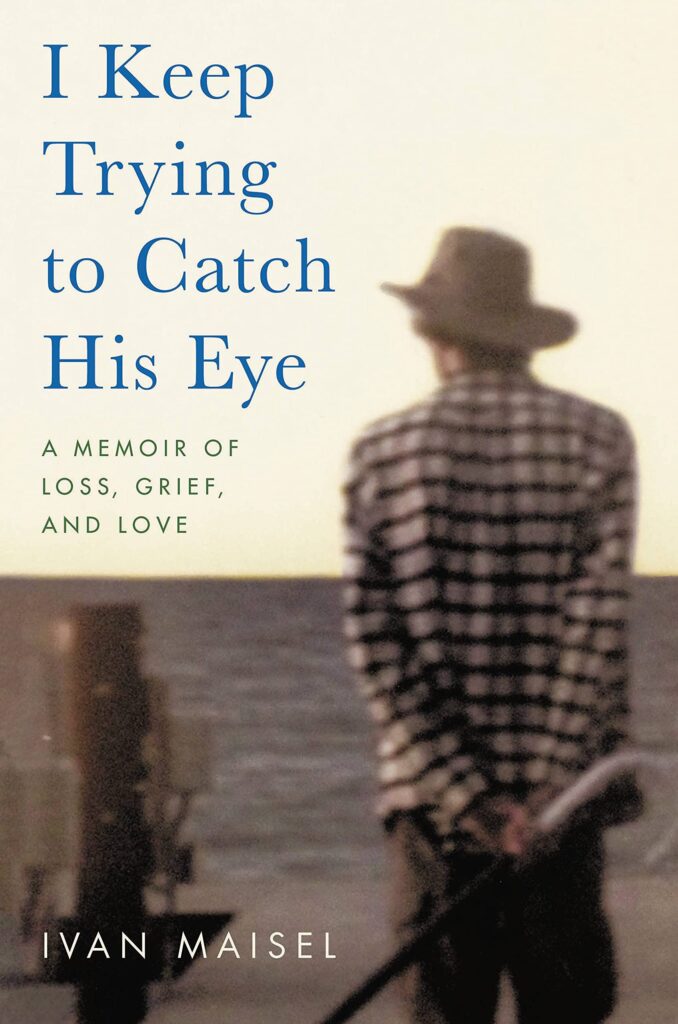 Order From an Independent Bookseller. Here's Mine:
Follow Ivan Maisel on Twitter
Twitter feed is not available at the moment.
Calendar of Author Events
DATE & TIME
PLACE
10/27/2021
6:30 p.m. CDT

Kansas City Public Library
Kansas City, MO
(Virtual)
10/28/2021
6:30 pm CDT
Parnassus Books
Nashville, TN
11/01/2021
Noon CDT
Monday Morning Quarterback Club
Birmingham, AL
Luncheon
11/01/2021
5 pm CDT

Alabama Booksmith


Birmingham, AL
11/03/2021
5:30 pm CDT
Square Books
Oxford, MS
11/04/2021
6:00 pm CDT
Page and Palette
Fairhope, AL
11/08/2021
7:00 pm MST
Tattered Cover
McGregor Square
Denver, CO
11/11/2021
TBD

Fairfield University Bookstore


Post Road
Fairfield, CT (virtual)
11/16/2021
6:00 pm CST
Interabang Books
Dallas, TX
11/17/2021
7:30 pm EST
MJCCA Book Festival
Atlanta, GA (virtual)
11/19/2021
TBD
Literati Bookstore
Ann Arbor, MI (virtual)
12/02/2021
6:00 pm EST
A Cappella Books
Atlanta, GA
12/07/2021
TBD
Byrd's Books
Bethel, CT
12/09/2021
7:00 pm EST
Falmouth Historical Society
Falmouth, MA
01/20/2022

Barrett Bookstore
Darien, CT
02/09/2022
Magers and Quinn
Minneapolis, MN
Back to Top
Reactions to I Keep Trying To Catch His Eye
"(T)his beautiful and heart-wrenching work…yields a deeply affecting testament to the fragility of life, and the human capacity for resilience."

―

starred review

, Publishers Weekly

""At the center of this beautifully written memoir by a father about his son Max, is a loving, devoted family. Ivan is a sportswriter, his clean, direct writing style is riveting and emotional. One winter day, when his son goes missing on purpose, the family unspools first in shock, then grief, and finally redemption as the author finds a letter written to him from Max from happier times. There is so much love in this memoir, the reader too, is redeemed. There is humor and grace as the Maisels find their way in the world without this beautiful soul in their midst. The family holds their memories of this original, one of a kind young man in their hearts. You will too. I couldn't put it down."

―Adriana Trigiani, bestselling author of The Shoemaker's Wife

"Having lost a child myself, it's hard for me to imagine a parent experiencing anything that is more painful. Losing a child to suicide adds another layer to the grief because we can't understand why it happened. In I Keep Trying To Catch His Eye, Ivan Maisel shares his family's story of losing a son to suicide. He examines some deep issues that aren't easy for us to talk about—suicide, mental health, grief, and recovery.  This book will be helpful to anyone dealing with the loss of a loved one but especially to those who have been impacted by suicide.""

―Tony Dungy, NBC Sports, former NFL player/head coach and member of the Pro Football Hall of Fame
"Ivan Maisel lends a story of unfathomable tragedy – the loss of his son to suicide – the same eloquence and grace that he has long brought to sports journalism. As much as a memoir, I Keep Trying to Catch His Eye is a moving meditation on navigating grief, with Maisel reaching an understanding that comes to sustain him: That grief is an expression of love."

―— Steve Wieberg, senior writer and editor, Kansas City Public Library
"Such an incredible read. It was at times heart-wrenching, inspirational & compelling, but mostly it was about love. A Dad's unconditional love for his son."

Brett McMurphy, Action Network
"An intimate chronicle of abiding love." 

― Kirkus Reviews
"This is a poignant memoir about the love that propels us to carry on and move forward after loss. Ivan Maisel gives voice to emotions that many of us have felt but few have been able to articulate."

―Adam Grant, #1 New York Times bestselling author of Think Again and coauthor of Option B
"Loss and grief create a division between the uninitiated and those who speak the language. Maisel's gem of a book bravely bridges two worlds to help translate the many facets in grieving a child's death. Unvarnished and unsparing, this award-winning sportswriter turns the lens on his own journey to make sense of the unimaginable, demonstrating how we get through it without ever getting over it.

—Lee Woodruff, #1 New York Times bestselling author of In An Instant
"This book is one of the most compelling things that I have ever read. It will grab your heart and get you thinking about your own life and relationships in a really profound way."

— Bruce Feldman, The Athletic
"It is stunningly well written. This book took me on a journey that I did not expect. It was visceral and immediate. I found the book deeply moving, tender and raw at the same time. But more than that, it was something that I, or any reader, can relate to experientially. Emotionally reading it was much like the feeling of having a Band-Aid ripped off my own experiences. This book provides a truly safe space for the reader to open a Pandora's Box of their own grief while following the path of Ivan's. His family relationships bring hope as well, since he walks us through how they choose to communicate, be gentle with each other, and celebrate Max in big and small ways."
— Alice Hutchinson, Byrd's Books, Bethel, CT